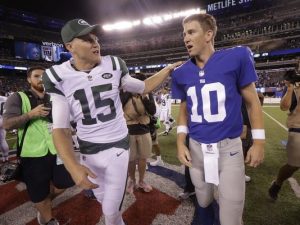 It's All About the QBs: The Scrubs Approach
Note: This is the fourth in a series of six articles on how to approach the quarterback position in a 2QB or Superflex league. The overall strategy article appears here. The second article, "The Multiple Stud QBs Approach", appears here. The third article, "The QB Value Approach", appears here.
It's okay. It's really okay. Go ahead and start singing TLC's song; you can't help yourself when your hear the word "scrubs". But, unlike with the guys in TLC's world, scrubs CAN get some love in the fantasy football world.
Let's continue using a SWOT analysis to identify the upside and roadblocks in building your team around scrub QBs.
Strengths:
Ease of acquisition

. Scrubs are easy to acquire at any point. Some might be available on the waiver wire when a starting QB succumbs to injury or is ineffective; others are soon-to-be-replaced veterans. Since no one seems to want them, you can often get them without much competition.

Cost of acquisition

. Again, since no one seems to want them, they won't cost you much in terms of trade or waiver wire position or dollars. You can get real quarterback production cheaply.
Weaknesses:
Week-to-week coverage.

Since they're scrubs, they won't inspire confidence in their job security. You might not have players to account for bye weeks, injuries, and job loss.

Over-reliance on other positions.

Playing two scrub quarterbacks means that you have to make up a lot of points elsewhere. That leaves little room for any other position not to meet or exceed expectations.
Opportunities:
Zagging

. As long as you have a plan, then going against the grain at quarterback can net you tremendous assets at other positions that others are passing up while focusing on QBs.

Sell-high window

. Even scrubs will see a spike in value from time to time. If you can acquire them for nothing and sell at the optimal time — like when Nathan Peterman took over in Buffalo for Tyrod Taylor mid-season last year — then you can get a nice return for a player that cost you little to acquire while spending little to find his replacement.
Threats:
Incomplete lineup.

Given the unreliable playing time of your scrub QBs, you could be left unable to fill all your quarterback positions every week.

Forced to overpay.

If you find yourself one competent quarterback short of competing — either by production or by an inability to field a full lineup — then you might to overpay for that quarterback upgrade.
The Scrubs Approach can have an incredible payoff. You can get meaningful QB points from undesired players while acquiring top-end talent and depth elsewhere. These quarterbacks are cheap to acquire and replace, allowing you to stack your team elsewhere while everyone else is chasing a mediocre QB upgrade.
Targets: Joe Flacco, Eli Manning, Tyrod Taylor, Sam Bradford, Josh McCown
Deep Target: Nathan Peterman
Next Week: The Balanced approach