Jack May, aka radio DJ "Candied Yam Jackson", told a story from his days at Yale in the 1950s with friend and classmate John Rawlings, who would later help design space suits for astronauts. Jack relates in a 2010 interview with slate.com writer Ben Zimmer:
John Rawlings was one of two roommates who were architecture students. In the spring of 1950 it was time for his project to complete the semester. He procrastinated. Apparently all architecture students do. He was going to be late even starting his charrette. So to be helpful I said the following:
JACK: You're late, John, you're fouling up. You are fucking the dog.
JOHN: Really, you are so vulgar and coarse, I just don't want to hear it.
JACK: You're still late. Is this better? You are screwing the pooch.
JOHN: (shrill laughter)
It might have been John Rawlings himself who ultimately brought the phrase "screw the pooch" to NASA, but it was Tom Wolfe's 1979 book, The Right Stuff, about the Mercury space program, and its 1983 movie adaptation that made it part of common parlance. It is in the movie where astronaut Gordon Cooper, played by Dennis Quaid, admonished a colleague, "Just make sure you don't screw the pooch".
Though I'm easily able to acknowledge that an astronaut error likely is astronomically more impacting than a fantasy football coaching error — or four of them in the same week! — I'm not willing to concede that my coaching decisions in fantasy football this past weekend was not a far greater example of animal husbandry. Quite simply, I screwed pooch. Big time. In every. Single. League.
——
I started a dynasty league in 2013, finding nine other owners to join. For each of the ten of us, it was our first foray into an all-out dynasty league. I can boast here that my success speaks for itself in the first five years: Playoff appearances in all five seasons, with two championships, one second-place finish, and one third place finish. A nearly unmatchable run of fantasy football success.
Entering this, our sixth, season, I suspected that my team was likely the third-best in the league. Indeed, I earned a playoff spot yet again, as predicted as the #3 seed. The #1 seed in the playoffs earns the right to select his opponent. I can boast here once again that mine was the strongest team from his potential opponents. Yet, the #1 seed, Zach, chose to play me anyway.
A few comments about Zach are essential. First of all, I was not surprised that he opted to play my team, the Milwaukee Moonshiners. Zach has employed this stratagem before, likely figuring that his best chance of the winning the championship in Week 16 would be by playing me in Week 15. This put both my hubris and ego on the line.
Next, as impressive and nearly unmatchable as my run in this dynasty league has been, it is undeniable that Zach's has been more impressive. Few remember the number 66, the number of home runs that Sammy Sosa hit in 1998, breaking Roger Maris's coveted record of 61 in 1961. Few remember the 66 that Sosa hit because it was wholly overshadowed that same year by the 71 home runs that Mark McGuire hit (both have since been passed by the 73 home runs hit by Barry Bonds in 2001). No one feels badly for Sammy Sosa; it's simply that his nearly unmatchable achievement happened in simultaneity to McGuire's even more impressive feat.
So it is in my dynasty league. As impressive as my success has been, Zach's has overshadowed it. Entering this year, he, too, had made the playoffs in each of the league's first five years. In those five seasons, he also made the championship game in every single season, winning three and losing two (both to me, of course). In addition, and perhaps even more impressively, Zach had the most points scored of all teams in every season. He had truly built a dynasty.
His dominance continued in 2018, scoring the most points again in the regular season and earning the top seed in the playoffs, where Zach made his suspicious choice to play me. There would no possibility of a fourth consecutive championship game between our two titan teams. It was simply on in Week 15.
Zach's juggernaut had an impressive game. Not remarkable by his (or my) standards, but impressive, especially given the numerous low-scoring NFL games this week. My team was decimated by injuries (likely why Zach selected me this week): James Conner, out. Melvin Gordon, out. OJ Howard (it's a start-two TE league), out. Zach's team was missing Jake Butt. In addition, my T.Y. Hilton and Doug Baldwin were questionable, and one of my quarterbacks (start two QBs each week), Aaron Rodgers, was on the road against the elite defense of the Chicago Bears. Put all that together, and I was foolishly scouring the waiver wire for my final flex position.
I knew that I didn't need to. I knew that I had a player on my bench whom I should start. It was patently obvious to me. Foolishly, I left him there, hoping beyond hope that James Conner would be active. To protect myself against Conner's potential inactive status, I picked up Stevan Ridley to start in his place if needed. Yes, Stevan Ridley. Foolishly not simply starting the far better player on my bench whose game was earlier than Pittsburgh's.
I knew it all along, but I left Robby Anderson against the susceptible Texans defense on my bench. Anderson outscored Ridley by twenty points. Despite Zach's impressive game, I lost by less than nine points. With Beck's immortal lyrics on repeat in my head, with Anderson on my bench, and with Ridley mocking me in my lineup, I knew one more inscrutable fact: I screwed the pooch in glorious fashion.
——-
In yet another playoff matchup, it was self-righteousness and arrogance that led me to bench Jordan Howard against a vulnerable Packers rush defense which had recently lost its two best interior defensive linemen to injury. I wanted to justify having acquired Kenyon Drake in the pre-season at the long-term expense of winning a bid on Baker Mayfield, a move that not only cost me a likely chance in the championship game of that league but also will have major negative ramifications for the next number of years. Pride led me to bench Howard and start Drake. That pooch-screwing decision cost me ten points in a game that I would lose by 8.5.
But, it wasn't personal. That league is almost entirely comprised of people whom I know more by team name than by real name. Yes, I screwed the pooch, but no one whom I know and who knows me would really know. It was anonymous.
Not so with my local Milwaukee league…
——-
In some plays, actors have bit parts, destined to appear in a single scene and then fade from spotlight. Their proverbial 15 minutes. That was not to be the case this week with Doug Martin and my fantasy football teams. The Muscle Hamster, trying to revive his fluttering career on the Raiders, had been a productive running back the past few weeks, getting enough volume and touchdowns to given him a reliable floor. His ceiling, it appeared, was also high this week, as he faced the worst defense in the league in the Cincinnati Bengals.
I thought to parlay that opportunity in two leagues. One is a first-year Milwaukee league with only local players allowed. This league has the people that I will see most often every day and affords not only a significant payout but also the most opportunities to brag (after all, isn't that why we really play fantasy football?).
I had the best team in the league. Best regular-season record, most points scored in the regular season, and studs throughout my lineup at all positions save TE, where I was able to start a resurgent Evan Engram. My only hole was at my second RB slot, where an injured James Conner normally plays. In addition to having to the aforementioned Doug Martin on my bench, I had Mark Ingram — a far better player on a far better team. Indeed, at the trading deadline, I declined to move Ingram to acquire Rob Gronkowski (!) specifically to protect myself in the event of a running back injury. I knew that I could slot him in and potentially not miss much.
Enter Doug Martin. Enter the Siren's allure of facing the worst defense in the NFL. Enter the pooch, yet again. By sitting Ingram, I left 5.5 points on the bench in a game that I lost by 4.4. And I lost the chase of championship pride. Enter the shame.
Yup, screwing the pooch cost all three of these teams wins that would have not only advanced me in the league and but also cost me a massive self-gratifying bump of my own esteem. Doug Martin, however, was not yet done. In addition to likely running his career to the ground, he managed to threaten fantasy football immortality — and, perhaps even worse, fantasy football friendship — itself.
——
Justin Eleff, among other projects, hosts a podcast on fantasyindex.com. Years ago, he launched his dream league, JFNFL. An insightful and incisive owner, Justin is also the writer whom I enjoy reading the most. From his barb-laden personal texts to his subtle appreciation of the nuance of every word to his weekly email recaps of our league, Justin's writing about fantasy football is both my inspiration to launch this website and also my biggest temptation to stop: he's just too friggin' good at it.
It would also be fair to name Justin, and his team's co-owner, Greg, as my biggest rival in JFNFL. (As you will soon read, the word "my" in that sentence is entirely misleading and downright insulting.) So, it was with extraordinary pride that Justin gave a shout-out to me (there's that singular word again…) in his recent podcast. The reason? Because my* team had gone an unprecedented 14-0 in the regular season — and against GOOD competition. This is my twenty-fifth year playing fantasy football, and I have never witnessed an undefeated regular season before. Neither had Justin. It was a well-deserved nod to my* accomplishment.
So impressive was this run that Justin promised to rename the championship trophy in my* team's honor were it to complete its undefeated season, and Justin's brother, Evan, also in the league, vowed to wear a T-shirt with my* team's logo — risking unrelenting rebuke from his wife — to all future family gatherings. The potential financial winnings for the season had become irrelevant. I* was chasing fantasy football immortality.
And so was Jeremy McKenna. Close friends ever since Jeremy bloodied my lip freshman year of college at the University of Wisconsin-Madison while playing one-on-one nerf basketball in Jeremy's dorm room (Jeremy had played football in high school; I, well, hadn't), Jeremy and I are both impressive fantasy football coaches. In our joint league with our other college friends (the six of us are completing our 24th year in this league!!), his overall record is second only to mine. Still, it's fair to say that he and I approach fantasy football not just differently but almost combatively diametrically.
When Justin ultimately invited me to join his league around eight years ago, it was without a second thought that I asked Jeremy to co-own the team with me. Our opposite fantasy football natures led our initial team, the Madison Milkers, to extremes — multiple championships and also an eventual last-place finish, earning us the right to relocate our franchise.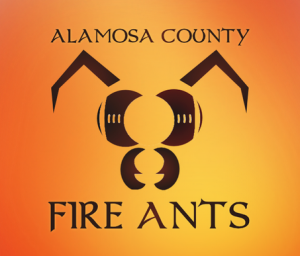 Thus the Alamosa County Fire Ants were given fame.
Justin unabashedly detests the name. He detests the logo — a genius design by Jeremy, with a hidden football as the eyes of the ant — even more. His mockery of our team name and logo, buttressed by his brother Evan, has been relentless. The allure of its immortality grows stronger than a Siren's call.
Enter Doug Martin yet again.
Our perfect season on the line, our precious Fire Ants entered Week 15 without James Conner, Melvin Gordon, and AJ Green. It heralded a resurgent Jameis Winston facing the imposing defense of the Baltimore Ravens, an injured Cam Newton, and an elite tight end in Zach Ertz playing without quarterback Carson Wentz.
The injuries left us with just one crucial roster decision to make: in our final flex spot, do we start Derrick Henry or Doug Martin?
I'll confess here what I shamefully admitted to Jeremy through anxious laughter last night after the results of the game were final: I knew that my coaching game was off. Sure as I knew that leaving Robby Anderson on the bench was opprobrious in my dynasty league; sure as I knew that Jordan Howard was the better play over Kenyon Drake; and sure that I knew it was an egregious error not to put Mark Ingram in my lineup rather than a Mr. Doug Martin. I just knew that I had been screwing the pooch all weekend. Indeed, I had a text typed out to Jeremy, letting him know that my coaching sense was off this weekend and that he should take the lead in setting the lineup.
But, I didn't send the text. Pride, shame, denial… Instead of deferring to my brilliant co-owner Jeremy and valuing his intuitive insights, I fought against him. I fought FOR Doug Martin despite Jeremy's intuition — a remarkable weapon not just in fantasy football but in life — that Henry would have another monster game. Indeed, Jeremy presciently predicted two more touchdowns and a massive rushing output.
Our perfect season on the line, a potential rift in our co-ownership perhaps inevitable, elusive immortality waiting for us, Derrick Henry exploded while on our bench. Taking on the role of the mocking deity, Doug Martin's futile game reminded of me of the Jewish adage, "Humans plan, and God laughs".
We all get emotionally involved in fantasy football. It is not a game; it is a passion. I have never felt more emotionally wrought than throughout this weekend, losing three of my playoff weeks because of horrific and inexplicable coaching decisions, and staring at the possibility of a fourth loss via the Alamosa County Fire Ants as Monday Night Football kicked off.
That we would have lost to any other playoff team in JFNFL, that we held on to win by just seven points — these truths brought me little joy. Only relief. Jeremy and I were on the phone for an hour, watching the fourth quarter of the game together, Jeremy trying to hold back his building rage at Martin's presence in our line-up, and me desperately hoping that Martin's presence wouldn't potentially cost me more than a win in a simple fantasy football game.
Ultimately, we advanced in JFNFL, with just one obstacle before us on our path to our undefeated season: a championship matchup of destiny against the Mississippi Queens, led by Greg and Justin.
——
The simple truth, though, is that I screwed the pooch this week. Big time. Multiple times. Worst coaching week ever for me. Cost me shots at moving on in multiple leagues. Cost me legendary status in my dynasty league, endless bragging rights in my local league, and potentially thousands of dollars overall.
More importantly, thankfully, Jeremy quickly forgave me. Our fantasy football partnership and our life friendship continues. And, improbably, the gleam and spirit of the Alamosa County Fire Ants continues to shine through.
Now, emotions back in equanimity, one reality is unassailable: we are just one week away from fantasy football immortality.