Overvalued, Undervalued (2018)
Overvalued
Not once in the past four seasons has Matthew Stafford finished as a top-10 quarterback in points-per-game. Not once. Yet, his recent ADP (average draft position) is exactly at #10.
Stafford's pass-catching corps is no better than it has been over the past few years. He has reliable veteran targets, including Golden Tate, Marvin Jones, and Theo Riddick, but none that can dominate a game. Detroit has done nothing this off-season to indicate that their offense will be more passer-friendly, particularly near the end-zone, nor have they added any meaningful piece to their WR or TE corps.
Putting his early-career injury woes behind him, Stafford is a safe bet to start most if not all the season. But, drafting him as a top-10 QB prices him for his ceiling. There is no proven history of that production nor is there any reason to suspect that he will exceed his finishes from each of the past four years.
Let someone else pay for his unrealistic upside.
Undervalued
Quick: Name some QBs who have been in the top-14 every year in points per game since 2015. I'll wait while you all guess the usual suspects, but most of you won't have Blake Bortles on your list.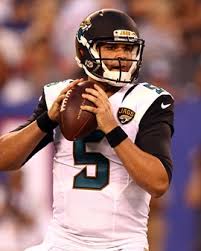 I doubt that he will repeat his top-3 finish from 2015, but Bortles has been consistently productive. The presence of Leonard Fournette and the strong running game might limit his upside, but it also elevates his floor: Opposing defenses cannot tee off against him. In addition, Bortles has some young but capable wide receivers along with newly-acquired tight end Austin Sefarian-Jenkins.
Often drafted in the mid- to late-20s (!!) among QBs, Bortles has a reliable floor as a consistent middle-of-the-road quarterback with proven QB2 reliability and unlikely low-end QB1 upside. While I would not draft him for his upside, he is a great value as later-round second quarterback and an ideal QB3 from whom you would get QB2 production if pressed into your starting line-up.
Scoop him late, getting a QB2 at QB3 prices or insuring your top-2 quarterbacks with a productive player on the bench.